2018 Mercedes-Benz GLA: Perfect marriage of versatility and efficiency
October 31 2018,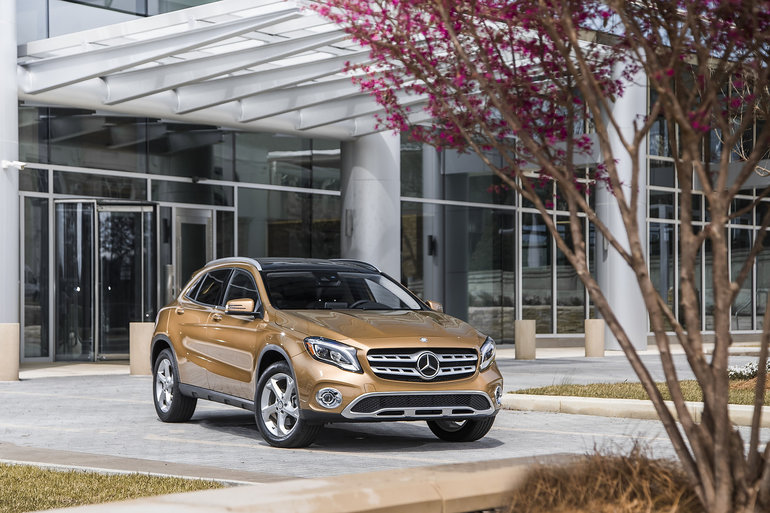 As an entry-level SUV in the Mercedes-Benz family, the GLA's mission is to introduce new consumers to the German brand while ensuring the level of refinement, comfort and dynamism that it is expected from an SUV with the Silver Star on the grill.
Introduced to the market three years ago and refreshed last year, the Mercedes-Benz GLA certainly has a lot to offer its customers.
A high-end SUV that's also affordable
Starting at just $ 38,500, the 2018 Mercedes-Benz GLA is powered by a 2.0-liter, four-cylinder turbo engine delivering 208 horsepower and 258 lb-ft of torque. This engine allows the GLA to reach 100 km/h in less than 7.0 seconds while being particularly fuel-efficient at the pump with an average fuel consumption rating of 10.1 liters per 100 kilometers in the city and 7.6 liters per 100 kilometers on Highway.
This is quite impressive given that the GLA can accommodate between 421 and 1,235 liters in the trunk. You just don't expect a versatile and luxurious SUV to be fuel-efficient.
Although it has not been on the market for a very long time, the 2018 Mercedes-Benz GLA has nevertheless received several improvements this year, starting with aesthetic touch-ups everywhere, LED headlights and Apple CarPlay and Android Auto connectivity features.
The GLA 2018 range also features an even more powerful model, the GLA 45 AMG. The latter is a real bomb on the road with its turbocharged 2.0-liter four-cylinder engine developing 375 horsepower. It's powerful enough to reach 100 km/h in less than 5.0 seconds which is really impressive for a model under $ 50,000.
With the 2018 Mercedes-Benz GLA, we get an SUV that sneaks around the city and can meet a wide range of needs without draining the owner's savings. The GLA offers all the prestige, refinement, quietness, comfort and luxury of a Mercedes-Benz vehicle, but with its low interest rates and numerous financing offers, it is also within reach of the majority of budgets.
Come discover the new 2018 Mercedes-Benz GLA today at Mercedes-Benz Ottawa.