Ottawa Auto Show : 2019 Mercedes-AMG C 43 4Matic
April 03 2019,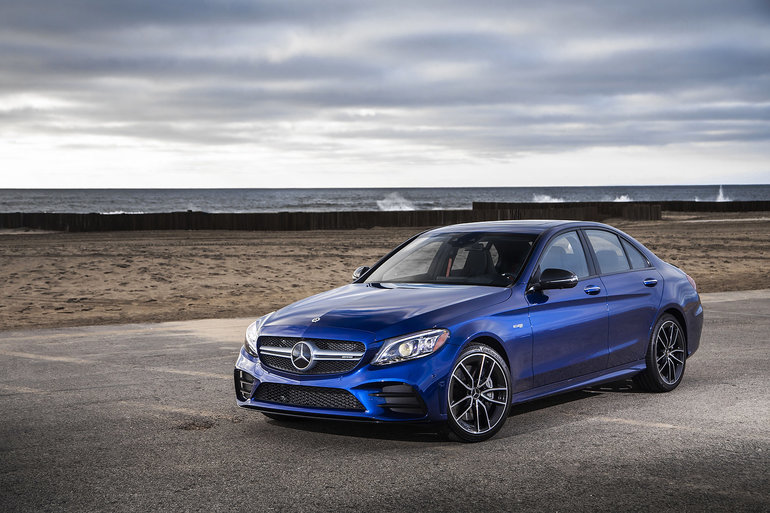 Of all the 2019 Mercedes-Benz C-Class models, the Mercedes-AMG C43 4Matic may just be the most impressive. It's not the fastest, but many will feel that it's the most balanced and the perfect daily commuter.
Standing below the Mercedes-AMG C 63 and its monstrous 4.0-liter V8 biturbo engine, the Mercedes-AMG C43 4Matic gets a very potent 3.0-liter biturbo V6 which produces 385 horsepower and 384 pound-feet of torque, more than any other direct competitor. Capable of reaching 100 km/h just 4.7 seconds, the C 43 is just 0.6 seconds slower than the C 63 on the sprint to 100 km/h.
It starts at $59,000 which is pretty impressive for a car with this much power, and unlike the C 63, the C 43 comes standard with 4Matic all-wheel drive. In other words, you get a ton of power, but that power is easier to control and put to the road, and you can use it all year round.
The 2019 Mercedes-AMG C 43 gives you the best of both worlds. It has the performance, look, and overall driving dynamics of a Mercedes-AMG car, but with the comfort, refinement, daily usability, and all-weather performance of a traditional C-Class.
And if you're wondering what is waiting for you when you floor the right pedal, let's just say that the new 2019 Mercedes-AMG C 43 will make the hair on the back of your neck stand up with its exhaust note. This is a truly remarkable car that provides both an exhilarating drive and incredible comfort and luxury.
It's massive 384 pound-feet of torque is delivered at just 2,500 RPM which means you always have plenty of power to pass, accelerate, or get out of a sticky situation quickly. Move the dial to Sport or Sport + modes, and you'll find a car that handles and responds just like a high-performance vehicle with the sound to go with it. Tune it back to Comfort, and you have a highly refined luxury vehicle for your daily commute.
Visit us today a Mercedes-Benz Ottawa to learn more about the new 2019 Mercedes-AMG C43 4Matic.