Ottawa Auto Show: 2019 Mercedes-Benz A-Class
April 03 2019,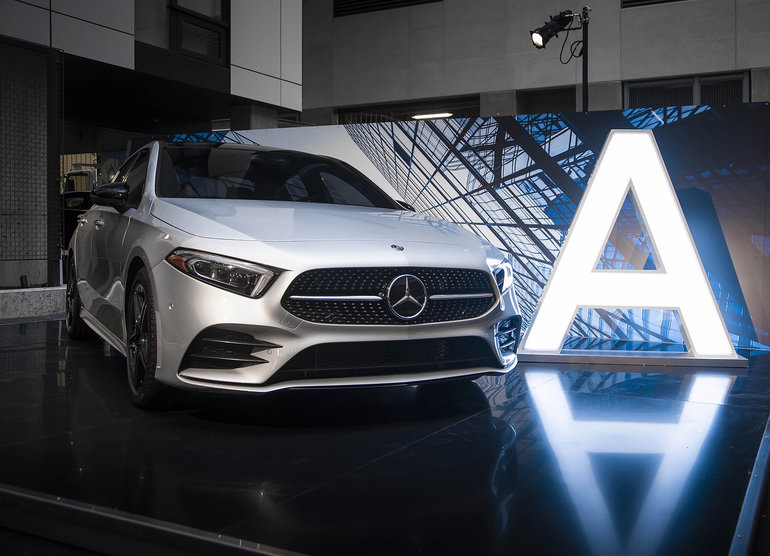 The Mercedes-Benz A-Class is the latest new Mercedes-Benz model to arrive in Canada and you can get your first look at it at the Ottawa Auto Show. What you will find is a vehicle that has an affordable sticker price, but that retains and even improves on Mercedes-Benz' already impressive list of commodities.
The new A-Class may be Mercedes-Benz' entry-level model, but there is nothing entry-level about it. It may be the most affordable model you can buy today at Mercedes-Benz with its sticker price of $34,990 for the Sedan and $35,990 for the hatchback, but you won't ever feel like you compromised or got a Mercedes-Benz vehicle that doesn't truly reflect the brand's premium reputation or luxury.
Available as the Mercedes-Benz A 220 sedan or the A 250 hatchback, there is a new Mercedes-Benz A-Class for every need. Both feature a redesigned interior that can be equipped with two 10.3-inch center screens that duplicate the interior design found on much more expensive models like the E-Class or S-Class.
Better yet, both new Mercedes-Benz A-Class versions get MBUX, or Mercedes-Benz User Experience. MBUX is Mercedes-Benz' latest technology, and they introduced it on the A-Class. That should give you a pretty good idea of what the car represents for the brand and its level of refinement.
MBUX is a system that gives the user a more tailored experience, and better functionality. The system uses advanced voice commands to allow the driver to interact more naturally with the car to adjust various functions, and AI functions personalize the layout and main functions according to the driver's preferences recorded over time.
A powerful 2.0-liter turbocharged four-cylinder delivers 221 horsepower and 258 pound-feet of torque which is enough to get you to 100 km/h in just 6.2 seconds. The sedan gets a 188-horsepower engine with 221 pound-feet of torque which reaches 100 km/h in 7.2 seconds.
Come in today and discover the brand-new 2019 Mercedes-Benz A-Class!