The 2019 Mercedes-Benz EQC: An EV SUV Revolution
May 30 2019,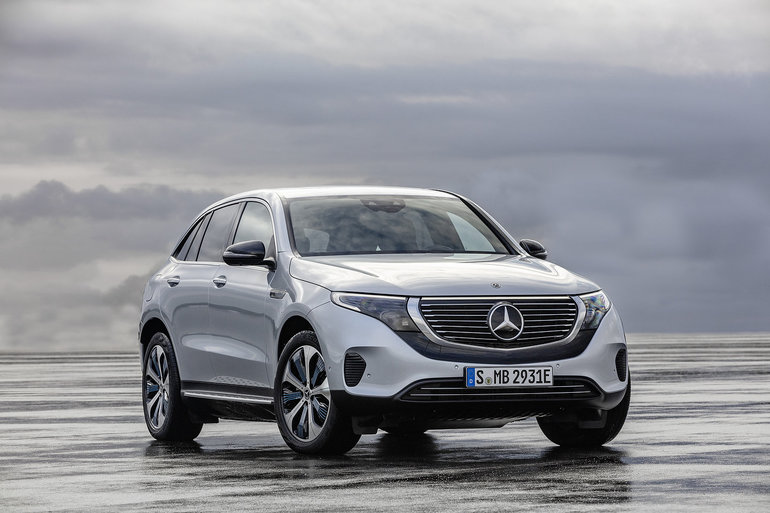 The EQC is one of the first model in an exciting new line of "Mercedes-Benz EQ" all-electric vehicles that blend comfort, performance, technology, and more. This ground-breaking crossover SUV is the start of a Mercedes-Benz revolution, and you can be a part of it.

The exterior of the EQC mid-size luxury crossover is nothing short of original, and it forges a new design path for Mercedes-Benz. The symmetrical grille and LED headlamps integrate to form an aerodynamic front end that is accented by LED lighting at the top. Air flows smoothly above the hood and roof, and it reduces drag and increases efficiency. The rear roof spoiler distributes wind resistance beyond the vehicle and adds kilometres to your trip and a quieter cabin. Rose and gold-coloured accents enhance the unique aesthetic and differentiate it from among the competition.

Power and technology converge with the 2019 Mercedes-Benz EQC

The EQC boasts an entirely new Mercedes-Benz drive system. Two asynchronous motors team up to produce a bold 402 horsepower and 564 lb-ft of torque that will take you from 0 to 100km in just 5.1 seconds. Thanks to this all-electric powertrain, the torque is delivered instantly to the wheels, providing exhilarating accelerations every time.
Compact electric drivetrains control each axle and gives them a direct power boost that is hard to find among any production vehicle. And when it's time for a charge, the 80kWh lithium ion battery will fill itself in just 40 minutes with its standard DC Fast Charging. For added performance, the Dynamic Select system allows you to control transmission modes, handling, suspension and dampening, and so much more.

A wide range of technologies makes the 2019 Mercedes-Benz EQC the choice for the future

The interior of the EQC is designed to enrich your driving experience with the latest technologies. The Mercedes-Benz User Experience (MBUX) with Voice Control eliminates distractive touch inputs that take your eyes off the road. The industry-breaking 10.25" media display and 10.25" cockpit widescreen offer you a continuous feed of information that escapes the traditional dashboard and moves information closer to you.

The EQC also emphasizes safety features, too. Standard Active Brake and Speed Limit Assist, Active Distance Assist, and so much more add safety layers that keep you out of danger.

Mercedes-Benz Ottawa is your headquarters for the upcoming EQC. Visit us today to learn more about this groundbreaking SUV.