2015 Mercedes-Benz ML Class: Balanced Benchmark
December 29 2014,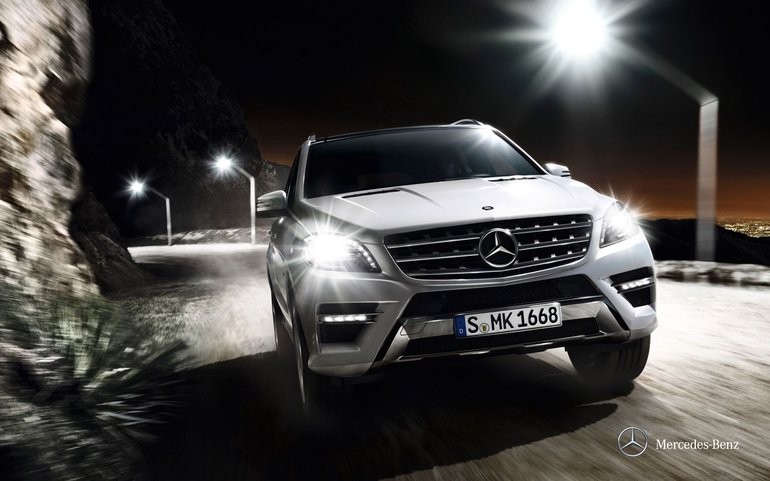 When you are one of the top selling vehicles in your segment, it must mean that you are doing something right.
The first thing Mercedes-Benz did right in the case of the ML was to introduce it back in 1997. In doing so, the German automaker created a segment that is today one of the most popular in the industry. Indeed, luxury midsize SUVs are now offered by every luxury manufacturer, and competition is fierce within the group. That said, Mercedes-Benz has managed to stay ahead of the pack by offering a near-perfect balance of comfort, performance and, yes, fuel-efficiency.
For 2015, Mercedes-Benz has introduced a host of new elements to the ML in order to remain competitive. The most significant addition is without question the ML400. Powered by a twin-turbo, 3,5-liter V6 engine, the ML400 offers 329 hp and 354 lb-ft of torque. A seven-speed automatic transmission sends power to all four wheels with smoothness and efficiency.
As with all Mercedes-Benz products, buyers get a host of engines to choose from. Of course, 2015 brings back the ever-popular ML350 BlueTEC and its 3.0 liter diesel V6 engine good for 240 hp and 455 lb-ft of torque. Yes, you read that correctly. The BlueTEC offers so much torque that it can rival with many more powerful gas-engine midsize SUVs without punishing the owner in the fuel consumption department. That may explain why the ML350 BlueTEC is one of the most popular choices in the industry, and within the ML range as it accounts for 80 % of ML sales.
Two V8 engines are also offered in the ML. The first, powering the ML550, offers 402 hp and 443 lb-ft of torque. It offers impressive performance capable of competing with many sport cars on the market, yet remains a comfortable and luxurious vehicle that will make long commutes enjoyable and relaxing.
If one requires even more power, there is always the ML63 AMG and its monstrous 5,5-liter V8 that offers up 518 hp and 516 lb-ft of torque. There is also a Performance option that boosts the power to 550 hp and 560 lb-ft of torque. On the road, that means that owners reach 100 km/h in only 4,7 seconds, which is very fast by any measure, but particularly so in an SUV. Moreover, the ML63 is much more affordable than a Cayenne Turbo, yet offers equivalent performance and luxury.
Every 2015 ML is equipped with Mercedes-Benz's 4Matic AWD system which is still to this day one of the best on the market. If you want to get through winter without any hassles, Mercedes-Benz has you covered.
Overall, no other midsize luxury SUV offers the same balance of power, comfort, fuel-efficiency and luxury as does the ML. Come drive the new 2015 Mercedes-Benz ML today at Mercedes-Benz Ottawa.