2015 Mercedes-Benz SLK: So much class
May 28 2015,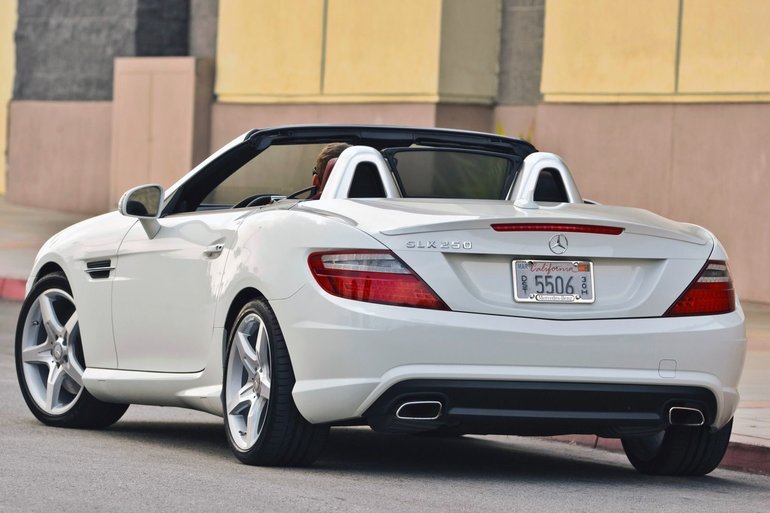 There's something alluring about the 2015 Mercedes-Benz SLK class.
Perhaps it's all the refinement and engineering you've come to expect from the German automaker with a touch of sporty fun and performance thrown in for good measure. Or perhaps, it's the fact that you can order yourself a manual version of this two-seater roadster. That's right. Row your own gears. You didn't see that one coming did you?
The fact that the Mercedes-Benz SLK can be ordered with a six-speed manual transmission in the SLK 250 variant offered from $ 52,200 is one of the best kept secrets in the industry. It also happens to be the only Mercedes-Benz you can order with a do-it-yourself transmission.
While there's only room for two in the Mercedes-Benz SLK, you're not going to purchase this puppy for practicality, that's for sure. This roadster is meant to enjoy the open road on leisurely Sunday drives with plenty of sunshine and smiles.
There are three equally fabulous versions of the 2015 SLK-Class available, and as there is a different engine in each model, fuel economy ranges from 7.2L to 8.1L/100km on the highway, and 10.4L to 11.1L/100km in the city.
The three different engines featured in the 2015 SLK-Class models are as follows: In the SLK 250 you'll find an inline 4-cylinder that produces 201 horsepower and 229 lb-ft of torque. Move up a level to the 2015 SLK 350 and you'll find a V6 mill under the sculpted hood that'll push out 302 horsepower and 273 lb-ft of torque.
If you pony up for the overzealous SLK 55 AMG, you'll find a V8 powerhouse that pumps out 415 horsepower and 398 lb-ft of torque. Yum.
In all 2015 Mercedes-Benz SLK models, power is sent to the rear wheels and is controlled via a 6-speed manual (in the base SLK 250 as mentioned previously) or via Mercedes' 7G-TRONIC PLUS 7-speed automatic transmission with paddle shifters.
As this is a roadster, there is only seating for two as we said and with the roof up, the 2015 SLK features 335 litres of trunk space. And when the roof slides down into its storage spot over the trunk, that capacity shrinks to just 225 litres. However, you are (again) not purchasing this bad boy for its practicality. On the other hand, if you compare to other roadsters out there, you realize you can do a lot worse than the SLK in terms of small convertibles when it comes to storage space.
The stunning 2015 Mercedes-Benz SLK is not to be missed, and you'll want to head down to Mercedes-Benz Ottawa today to find out more.
Book your test drive today!