2018 Mercedes-Benz GLS: the ultimate luxury SUV
August 31 2017,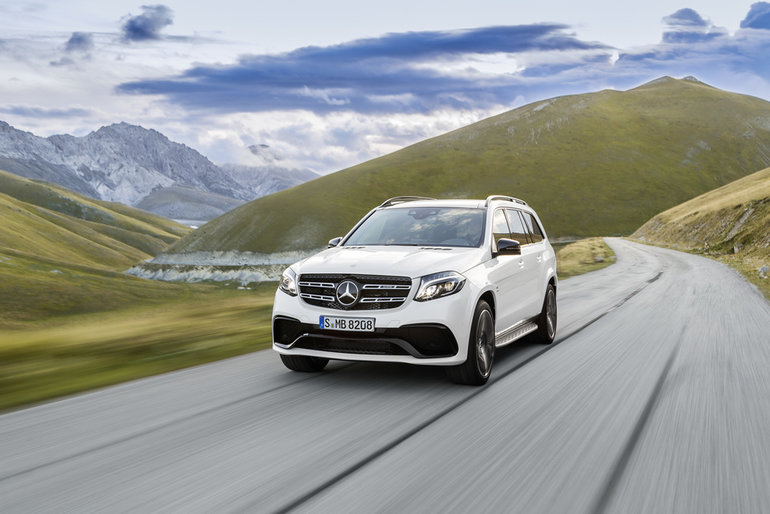 The 2018 Mercedes-Benz GLS is coming back without much change for 2018, but since it was completely redesigned last year, there was no real reason for Mercedes-Benz to thoroughly review its flagship SUV. The current GLS offers an unmatched combination of prestige, comfort, interior space, performance and luxury, and it is the best choice for families who do not want to compromise.
Three versions of the 2018 Mercedes-Benz GLS
This year, the 2018 Mercedes-Benz GLS is offered in three versions starting with the Mercedes-Benz GLS 450 which is powered by a 3.0-liter V6 engine that develops 362 horsepower and 369 pound-feet of torque. This power allows the entry-level GLS to reach 100 km/h in just 6.6 seconds.
That's quite impressive for an SUV that is able to tow up to 3,402 kilograms and is also able to offer up to 2,300 liters of cargo space.
But, if you want even more power, Mercedes-Benz is there for you. Indeed, why not opt ​​for the Mercedes-Benz GLS 550 and its 4.7-liter V7 biturbo engine? The latter offers an impressive 449 horsepower and 516 lb.-ft. of torque, and can reach 100 km/h in just 5.3 seconds.
That said, it is not the most powerful version of the GLS range. No, this honor goes to the incredible Mercedes-AMG GLS 63 which is available starting at $ 136,200. With a 5.5-liter V8 engine that develops 577 horsepower and 560 pound-feet of torque, the GLS 63 AMG reaches 100 km/h in just 4.6 seconds!
All 2018 Mercedes-Benz GLS come standard with 4Matic all-wheel drive for optimum traction under any circumstance.
Unbelievable comfort in the 2018 Mercedes-Benz GLS
On the road, the new 2018 Mercedes-Benz GLS surprises by offering absolutely remarkable comfort while being solid like a rock. You can travel long hours on the highway without any discomfort, and the many driving assistance systems are always there to protect you.
To learn more about the new 2018 Mercedes-Benz GLS, contact us today at Mercedes-Benz Ottawa!