The Mercedes-Benz A-Class has arrived in Canada
November 28 2018,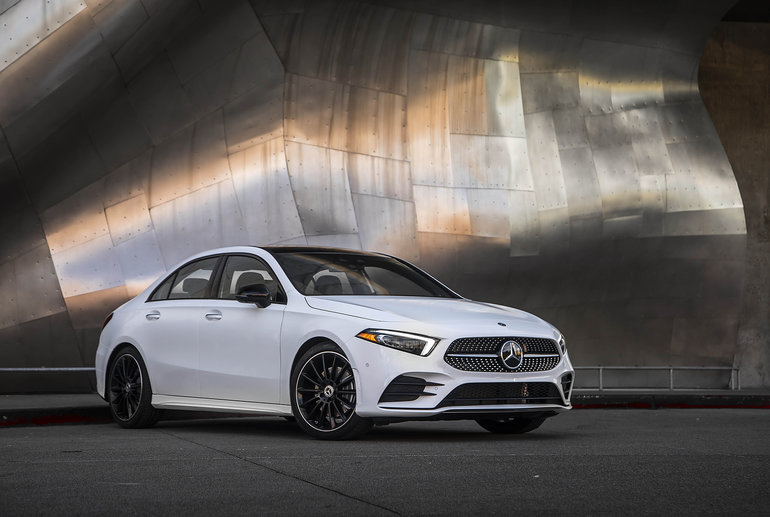 The all-new A-Class from Mercedes is proof-positive that very good things come in small packages. So enamoured is the automotive media with our latest product that we cannot wait to give you an opportunity to see the car for yourselves.
Among the numerous highlights brought forth by the media, design, technology and performance take the top three positions, and we couldn't agree more.
Looks expensive, priced right
In everything we do here at Mercedes, we are always mindful of our customers' expectations. This is why the affordable A Class is as visually striking as it is. In our showroom, the A Class is right at home alongside the C-, E- and even our flagship S Class.
Its size is the only reason why we can't charge E Class prices for our A Class. All kidding aside, whether you select the classic sedan or the sporty hatchback, you will never think that you have purchased a lesser Mercedes. In fact, and as you surely know, there is no such thing as a "basic" Mercedes.
A new world of technology
Steeping aboard our new A Class is to discover a whole new world where the human-machine interface, design and technology seamlessly come together as one. We are especially proud of our MBUX, or Mercedes-Benz User Experience. This multi-platform multimedia system is displayed on the standard twin-7-inch screens, or optional twin-10.25-inch units, and features artificial intelligence which gives the system the unique ability to learn.
We will not mince our words here: Connectivity is on another level in the new 2019 A Class. The list includes MercedesMe connected services, Apple CarPlay, Android Auto, Bluetooth and Voice Assistant. It will be our pleasure to go over all these features when you next stop by our showroom.
To drive it is to love it
When all will be said and done, it'll be time to take the car for a spin. However, be warned, as you'll quickly discover and understand why leading Canadian auto journalists are praising the car's on-road behaviour. Some have even reported that it feels every bit like a Mercedes-Benz should and that it drives big and powerful.
We're so convinced that the new 2019 Mercedes A Class is the car you want but then again, you need not take our word for it. Search and read the reviews, and then come see and experience it for yourself.