The Next Generation 2020 Mercedes-Benz CLA-Class
April 30 2019,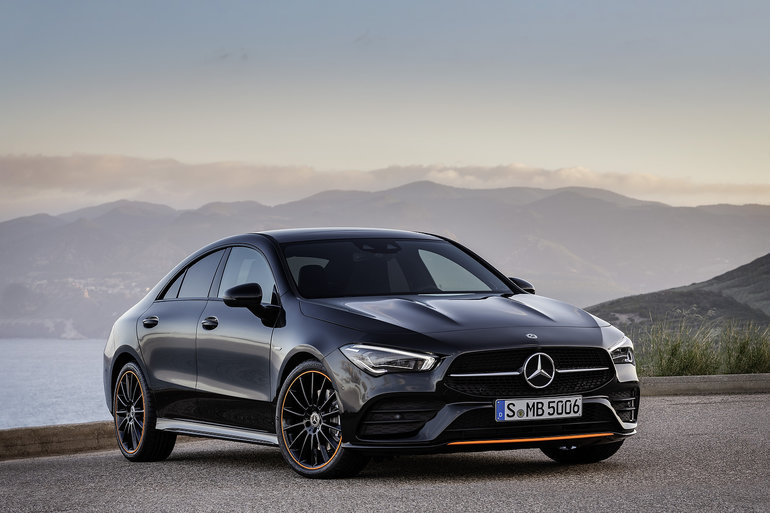 The renewed 2020 Mercedes-Benz CLA-Class emphasizes aerodynamic improvements, a sportier drive, and more power. This next generation of four-door coupes is available in three trims: the base model CLA 250 and the new AMG-spec CLA 35 and CLA 45.

Sleek Look and Better Power Options
The simplified CLA exterior results in a more fluid and elegant form with a 0.23 drag coefficient. The grille receives additional bars to improve cosmetics, and chrome trim is added to select areas. New circular exhaust outlets and a rear diffuser add to the sporty appearance. One of the more notable changes is the wheelbase. The 2020 CLA-Class receives a track increase of 63mm in the front and 55mm at the rear, and it is 55mm longer overall. The standard AMG styling package adds an aero kit, a lowered suspension, 18-inch wheels, and larger brakes.

The CLA-Class is equipped with 4Matic all-wheel drive and a seven-speed 7G-DTC dual-clutch transmission. The 35 and 45 have manual and Race-Start launch modes that instantly change the character of your vehicle. Power for the CLA 250 comes from a 2.0L turbocharged four-cylinder generating 221 hp and 258 lb-ft of torque. The CLA 35 and 45 share the same engine, but horsepower increases. The CLA 35 produces 302 hp with 295 lb-ft of torque, with the 45 producing 375 hp. The 35 and 45 have the AMG sports suspension package with aluminum wishbones and steering knuckle.

Technology Drives the Interior
Improvements to the CLA's interior features center on advanced design, technology, and safety. The dashboard receives a modern upgrade which includes a large wing that extends to both sides of the vehicle. The 7-inch touchscreen media display stands free and powers the infotainment system. If you opt for the Premium package, it extends to 10.25 inches. The MBUX (Mercedes-Benz User Experience) system takes in natural voice commands to let the car do more of the work for you. You can get its attention with a simple "Hey, Mercedes…" The CLA comes standard with several driver assistance features, including Active Brake Assist, Adaptive Braking, Crosswind Assist, and Attention Assist.

The 2020 Mercedes-Benz CLA-Class introduces the next generation of an exciting vehicle in the Mercedes-Benz family. Each vehicle has many additional features, but the best way to learn about them is to take a test drive. Visit Mercedes-Benz Ottawa and our professional staff demonstrate the 2020 CLA-Class for you today.