2015 Mercedes-Benz B Class 4MATIC - X-Small German engineering
January 29 2015, Pierre Laberge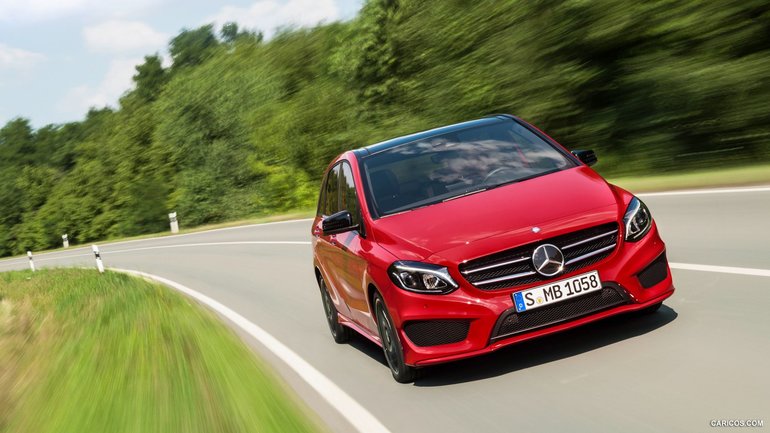 This year marks the 10th anniversary of the Mercedes-Benz B Class on the Canadian market. And Germans celebrate the stoic German way, by producing great engineering.
Worldwide, the Mercedes-Benz B Class has been sold to over a million units. Recently, many customers' wishes were granted and the B Class was finally introduced equipped with the 4MATIC all-wheel drive system. For 2015, this second generation of the B Class remains the same, sporting the sophisticated look and versatile platform introduced three years ago.
With its compact hatchback figure, the 2015 Mercedes-Benz B250 4MATIC offers convenient seating for five. Cargo volume triples from 488L to 1,547L when the rear seats are folded, making the B250 the perfect little luxury tourer for trips long and short. On the inside, everything screams fun and dynamic drive: from the dashboard highlighted with carbon fiber accents, the jet turbine-inspired air vents to the alloy pedals and quality leather.
Getting your own Mercedes-Benz is more affordable than you'd have imagined; starting at just under $34,000, the 2015 B250 4MATIC comes fully equipped with all the convenience and features one could hope for. Cruise control with wheel mounted controls, heated front seats, air conditioning, Audio 20 infotainment system with Bluetooth connectivity, etc. For a few extra perks you can opt for the Sport, Premium or Versatility packages that add, among other things, the rear view camera, keyless start, THERMATRONIC automatic climate control, the panoramic sunroof and much more.
Safety is something we have come to expect and rely on coming from the Germans and the B250 4MATIC is no exception. The small tourer offers a wide variety of safety features including collision prevention assist, adaptive braking, attention assist, hill start assist, weight sensing system and electronic stability program. And of course, it offers Mercedes-Benz' renowned 4MATIC all-wheel drive system.
Under the hood, small and feisty is the way to go with a 2.0L, 4 in-line cylinders turbocharged engine that powers the small hatchback with 208 hp and 258 lb-ft of torque, plenty to energetically propel the B250 4MATIC both in urban and highway settings. The only available transmission is an automatic 7-speed gearbox. Thanks to its tiny silhouette and engine block as well as to its ECO start and stop technology, the 2015 Mercedes-Benz B250 4MATIC can achieve an average fuel consumption on the road of 6.6L, and of 9.2L in the city.
Standing in a category of its own, the 2015 Mercedes-Benz B250 4MATIC is the perfect city to highway tourer. With plenty of convenience to make any ride as comfortable as can be, it is only waiting for you to get behind the wheel. Join us at Mercedes-Benz Ottawa to take it for a ride.