2017 Mercedes-Benz GLC Coupe: luxury that gets noticed
December 31 2016,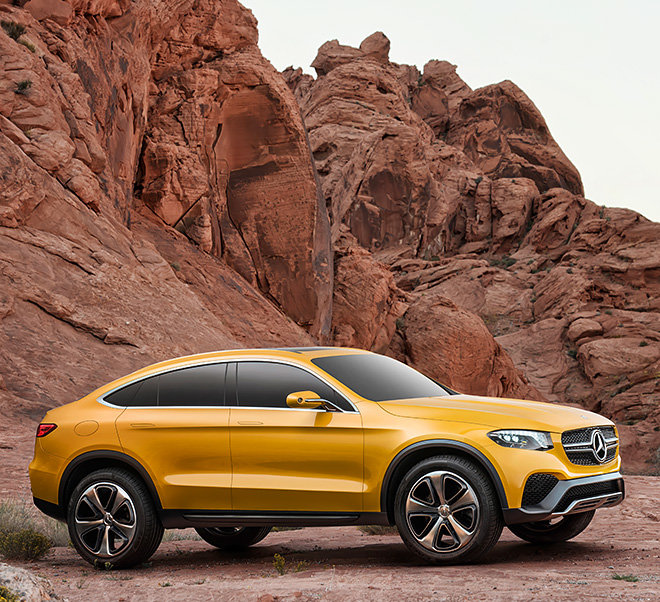 Mercedes-Benz knows how to create a varied range of vehicles. After introducing the all-new Mercedes-Benz GLC a little over a year ago, Mercedes-Benz has added a version that is even more noticeable to the GLC family this year with the 2017 Mercedes-Benz GLC Coupe.
Styling that stands out with the 2017 Mercedes-Benz GLC Coupe
The 2017 Mercedes-Benz GLC Coupe's design does not go unnoticed thanks to its sportier silhouette and its plunging roofline in the back. It also features standard 19-inch wheels and a muscular hood that showcases the sporty personality of the Mercedes-Benz GLC Coupe. It is also equipped with LED daytime running lights as well as LED taillights which create a distinctive visual signature.
Despite its design, however, it remains a Mercedes-Benz sport utility vehicle which means it is comfortable and refined while always having plenty of power that you can feel as soon as you push down on the right pedal.
The 2017 Mercedes-Benz GLC Coupe is available in several versions
Available starting at $49,990, the 2017 Mercedes-Benz GLC Coupe is powered by a 2.0-liter turbocharged four-cylinder engine that develops 241 horsepower and 273 lb.-ft. of torque. Despite an impressive fuel consumption rating of 10.9 liters per 100 kilometers in the city and 9.5 liters per 100 kilometers on the highway, the Mercedes-Benz GLC 300 4Matic can reach 100 km/h in just 6.3 seconds.
If you want even more power, there's the all-new 2017 Mercedes-AMG GLC 43 4MATIC Coupe that is powered by a turbocharged 3.0-liter V6 engine that develops 362 horsepower and 384 lb.-ft. of torque. This is enough to reach 100 km/h in less than 5.0 seconds.
Inside, the GLC Coupe displays roughly the same dimensions as the "normal" GLC. The passengers at the back will be pleased to learn that head spaces more than reasonable despite the arching roof. The trunk is able to hold 550 liters with all seats in place, and 1,600 liters with the rear seat down.
Very fun to drive, the GLC Coupe stands out with sportier handling that doesn't come at the expense of luxury or comfort. To learn more about the new 2017 Mercedes-Benz GLC Coupe, contact us today at Mercedes-Benz Ottawa.