2017 Mercedes-Benz GLE: high-end refinement
February 22 2017,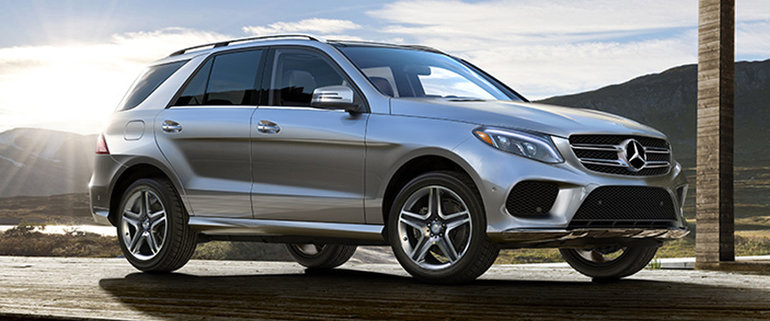 Formerly known as the M-Class or ML-Class, the Mercedes-Benz GLE was introduced to the market about a year and a half ago, and since then it has quickly been adopted by consumers looking for a midsize luxury vehicle that is refined in every way. The Mercedes-Benz GLE offers five different engines, which means that you won't have any trouble finding a GLE that can suit your needs.
Five models but only one philosophy for the 2017 Mercedes-Benz GLE
The 2017 Mercedes-Benz GLE is available in five versions, but each one is incredibly balanced, offers a comfortable ride and a silent interior, and above all, a great sense of confidence. In other words, you feel almost invincible behind the wheel of the 2017 Mercedes-Benz GLE.
Available starting at $ 63,800, the Mercedes-Benz GLE 400 4Matic is equipped with a V6 biturbo engine that develops 329 horsepower and 354 lb.-ft. of torque. Pretty impressive for an entry-level model. Capable of reaching 100 km/h in just 6.0 seconds, it is also capable of towing up to 2,665 kilos without problems. Its average fuel consumption on the highway is 10.1 liters per 100 kilometers.
For a sportier ride, you can turn to the Mercedes-AMG GLE 43 4Matic and its 362-horsepower V6 biturbo engine that also features 384 lb-ft of torque. More powerful, this engine is also more ferocious, and the personality of the GLE 43 is a lot more dynamic. Offered from $ 71,400, it reaches 100 km/h in just 5.7 seconds.
Next in line is the Mercedes-Benz GLE 550 which is available starting at $ 81,500 and was designed for those who want impressive performance without going to the GLE 63 AMG S that we will describe shortly. The GLE 550 offers a 449-horsepower V8 biturbo engine which is capable of reaching 100 km/h in just 5.1 seconds.
New for the 2017 Mercedes-Benz GLE range is the GLE 550e, a hybrid plug-in model that features a V6 engine coupled with an 85-kW electric motor. The latter is powered by a 8.8 kWh battery which recharges in about two hours and allows the new 550e to travel 30 kilometers without using any fuel.
At the top of the 2017 Mercedes-Benz GLE range is the Mercedes-AMG GLE 63 S 4Matic. With its twin-turbo V8 engine, it develops 577 horsepower and reaches 100 km/h in just 4.2 seconds.
Despite this power, the GLE 63 AMG S is available with the entire range of active safety technologies from Mercedes-Benz, and its trunk has a cargo capacity of 690 liters with all seats in place.
To learn more about the new 2017 Mercedes-Benz GLE, contact us today at Mercedes-Benz Ottawa!