2017 Mercedes-Benz GLS: Rugged Luxury
December 23 2015,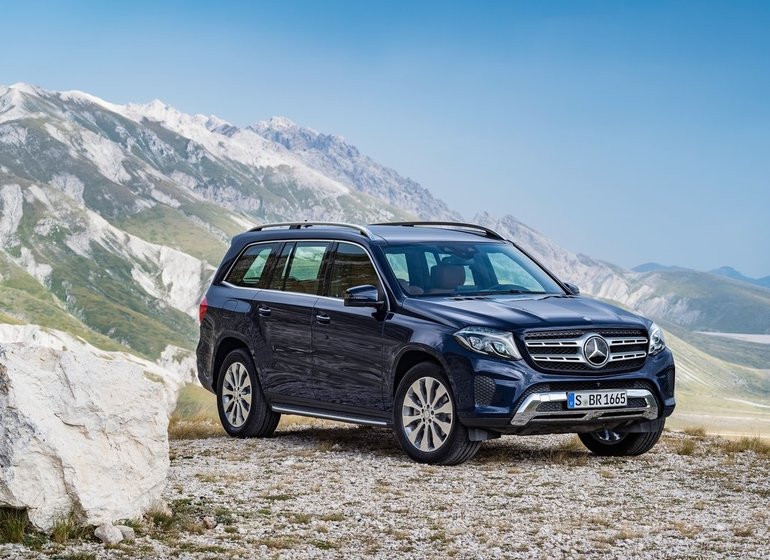 All in all, the GLS is the ultimate luxury SUV.
The newly introduced Mercedes-Benz GLS fulfills the needs of demanding drivers who appreciate luxury and performance, but also a versatile and practical vehicle. The all-new GLS will be available in our showroom in the first months of 2016 and there will be four models available to choose from: the GLS 350d, GLS 450 4Matic, GLS 550 4Matic and the top of the line Mercedes-AMG GLS 63.
Mercedes-Benz is Ready for 2016 with its All-New 2017 GLS
Under the hood, the engines are more powerful and more efficient than ever before. Inside the 350d lies a 3.0 L turbocharged V6 diesel powerplant with 249 hp and 455 lb-ft. of torque at 1,600 rpm. The GLS 450 has a 362 hp 3.0 L twin-turbo V6 and the GLS 550 has a 449- hp, 4.7 L V8 with 516 lb.-ft of torque. The most powerful out of all versions is the GLS 63, with a massive powerplant that delivers an impressive 577 hp and a 560 lb-ft of torque at 1,750 rpm – it goes from 0 to 100 km/h in 4.6 seconds. Drivers can choose from different driving modes: Comfort, Sport, Slippery, Individual, and Off-road. The GLS 63 is equipped with a Sport+ mode, which offers even greater handling and response. A new 9-speed automatic transmission comes as standard on all models, except the GLS 63, which has a 7-speed twin-clutch gearbox. All the 2017 GLS versions get the 4Matic all-wheel-drive system, which splits the power evenly to the four wheels.
Inside the GLS lies a new eight-inch high-resolution screen that houses the Comand system — phone, navigation, infotainment, etc. The GLS is packed with safety technologies. Among these include state of the art elements, drivers will enjoy the Distronic Plus with Steer Assist, which uses a 3D camera and radars. Moreover, there is the Brake Assist Plus with Cross Traffic Assist and Collision Prevention Assist (CPA), which monitors the surroundings and traffic, and warns the driver of a potential impact. Outside, the GLS is refined and distinguished. It boasts a new fascia, with a bigger emblem and taller headlights for a bolder look.
All in all, the GLS is the ultimate luxury SUV. It now has more refined, more powerful and more efficient powertrains. In addition, the handling has been greatly improved. It is loaded with technology and safety systems and can be put to the test (and comfortably succeed) in all difficult driving situations. This new addition to the family will be in our showroom at the beginning of 2016, come by Mercedes-Benz Ottawa and see everything that the 2017 GLS has to offer!