2017 Mercedes-Benz S-Class Cabriolet: the ultimate in luxury
November 30 2016,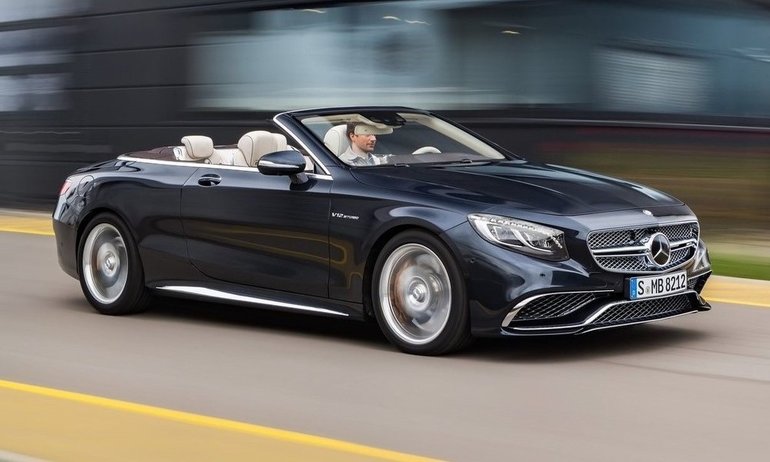 If you are looking for a high-performance convertible with state-of-the-art safety and connectivity technology that is as comfortable when the top is up as it is when it is down, you just have to take a look at the 2017 Mercedes-Benz S-Class Cabriolet.
No other convertible model offers such a balanced ride in this price range to go along with supreme comfort and a poised ride.
2017 Mercedes-Benz S-Class Cabriolet: the everyday convertible
Many think of convertible vehicles as being only useful in summer, but the reality is that with the Mercedes-Benz S-Class Cabriolet, you can use our convertible year-round. Offering royal comfort and a silent interior, the roof of the Mercedes-Benz S-Class Cabriolet is perfectly insulated.
The cabin's quietness is so impressive that one feels like they are driving the S-Class sedan. Better still, Mercedes-Benz engineers have worked very hard to improve soundproofing when the roof is down, and it is possible to have a conversation without shouting even when the top is down and our hair is blowing in the wind.
Because this is the high-end Mercedes-Benz model, you know you'll get the best materials, the best safety technologies and top-of-the-range options like massage seats, exclusive leathers and even Swarovski crystals encrusted in the front headlights.
Three distinct 2017 Mercedes-Benz S-Class Cabriolet models
The 2017 Mercedes-Benz S-Class Cabriolet is offered in three versions starting with the 2017 S 550 which is offered starting at $ 164,300. The latter is powered by a 449-horsepower V8 engine which allows it to reach 100 km/h in just 4.6 seconds. Except that with the S-Class Cabriolet, you do not even feel this performance. Instead, you feel like you're flying on a magic carpet.
If the S 550 is not powerful enough for you, there is always the Mercedes-AMG S 63 4Matic. Powered by a twin-turbo V8 engine good for 577 horsepower, the S 63 4Matic reaches 100 km/h in less than 4.0 seconds. This is the only model in the range to offer 4Matic all-wheel drive which means you can use your convertible in the winter without any problems.
Finally, there is the S 65 AMG which is powered by a V12 biturbo engine that makes 621 horsepwer. If you want the best, go with the S 65.
Sumptuous, luxurious, refined and very comfortable, the 2017 Mercedes-Benz S-Class Cabriolet represents the pinnacle of the modern convertible. Come and learn more at Mercedes-Benz Ottawa today!