2018 Mercedes-Benz Sprinter 4x4: Get everywhere
May 11 2018,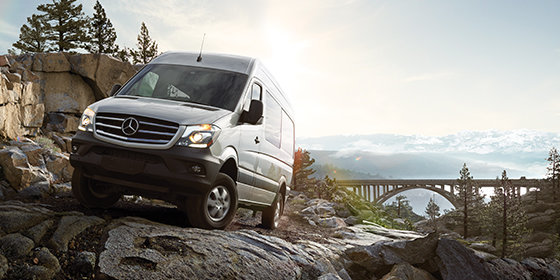 With the 2018 Mercedes-Benz Sprinter 4x4, you get a van that can travel anywhere thanks to an efficient and advanced all-wheel drive system. It's the only van to offer all-wheel drive, so it can handle any task, no matter what the situation is. Be it a snow storm, an off-road trail or a construction site, nothing stops the 2018 Mercedes-Benz Sprinter 4x4.
Starting at just $ 53,400, the Sprinter 4x4 offers added stability and impressive safety. It's available in 8 versions and offers two configurations, Combi and Cargo. With the Sprinter 4x4 you will always be able to do the job.
Impressive abilities.
The 2018 Mercedes-Benz Sprinter 4x4 is able to climb any slope thanks to an optional lower differential that also helps it to tow heavy loads. Indeed, the AWD Sprinter is able to tow up to 5,000 pounds without any problems.
The 4x4 Sprinter also benefits from a 20% higher ground clearance compared to the "normal" Sprinter. This means that you will never have to worry about hitting a rock or any other object when you are on a more difficult road.
Under the hood, the Sprinter 4x4 is powered by a 3.0-liter BlueTEC V6 engine that develops 188 horsepower and 325 lb-ft of torque. This allows it to tow with confidence and provide reassuring performance on the road while being fuel efficient. Moreover, the all-wheel drive system only adds 120 kilos to the weight of the Sprinter.
This means, essentially, that you do not have to sacrifice performance or fuel efficiency to benefit from the stability of an all-wheel drive Sprinter.
To learn more about the 2018 Mercedes-Benz Sprinter 4x4, contact us today.