2019 Mercedes-Benz A-Class: a new Mercedes-Benz in Canada
February 28 2018,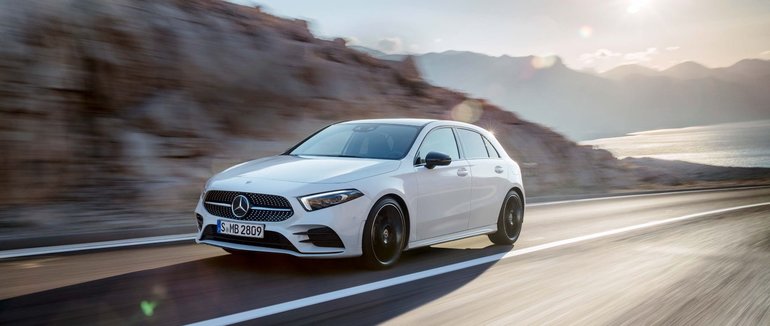 Earlier in February, Mercedes-Benz unveiled a model we have been waiting for here for a long time, the all-new 2019 Mercedes-Benz A-Class. Formerly reserved exclusively for Europe, the new-generation A-Class will be coming to Canada for the first time with a planned launch date later this year. With the A-Class, Mercedes-Benz will offer an entry-level car that makes no compromises on style, versatility, and comfort.
The new Mercedes-Benz A-Class will be available in Canada later this year
Introduced at the beginning of February in Amsterdam, the 2019 Mercedes-Benz A-Class will arrive in Canada by the end of 2018. The lineup will feature an exclusive hatchback version in Canada and a four-door model as well. The Mercedes-Benz A-Class will also stand out as the first car from the German brand to offer the Mercedes-Benz User Experience (MBUX) system, which offers artificial intelligence technology that can adapt itself over time to the driver.
This means that the system will be able to download new content based on the driver's tastes and provide a seamless connection between the car and the user's needs. The system will also offer advanced voice recognition technology that is activated by saying "Eh, Mercedes". It's a bit like "Ok Google", but for your car.
All this will be grouped in a central display that is reminiscent of what we find in the Mercedes-Benz E-Class and S-Class. In terms of interior space, the new Mercedes-Benz A-Class will offer 370 liters of cargo space with all seats in place.
Under the hood, the 2019 Mercedes-Benz A-Class will be powered by a 2.0-liter four-cylinder turbo engine developing 221 horsepower and 250 lb-ft of torque. 4Matic AWD will be available as an option.
The 2019 Mercedes-Benz A-Class is expected by the third quarter of 2018. Contact us today at Mercedes-Benz Ottawa Downtown to learn more!