Here is the new 2020 Mercedes-AMG A35 4Matic!
March 29 2019,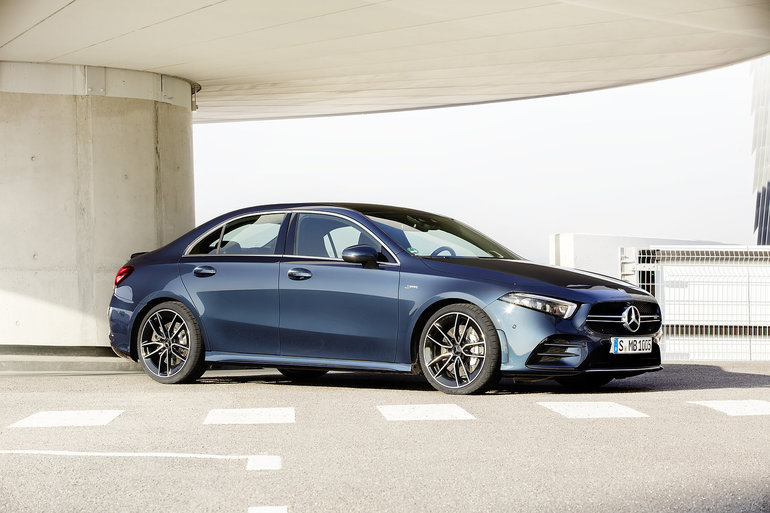 The Mercedes-Benz A-Class range will be adding a brand-new version next year and performance enthusiasts will want to pay close attention to it. The new Mercedes-Benz A-Class 2019 will be offered in Mercedes-AMG A 35 trim version next year.
This is the first AMG version of the upcoming A-Class in North America after the launch of the new Mercedes-Benz A 250 hatchback and the A 220 sedan recently arrived on the market. The 2020 Mercedes-AMG A35 takes everything these models do well but adds quite a bit of spice.
The new AMG A35 will be powered by a 2.0-liter turbo four-cylinder engine developing 302 horsepower and 295 pound-feet of torque. Combined with a 7-speed automatic dual-clutch transmission, the new Mercedes-AMG A35 also comes standard with Mercedes-Benz 4Matic + all-wheel drive.
The latter ensures optimal stability on any road and in any situation, but above all it allows the driver to maximize the performance of the car. In the case of the new Mercedes-AMG A35, there's a lot of performance to maximize.
According to Mercedes-AMG, the new A35 reaches 100 km/h in just 4.7 seconds, more than a second ahead of the Mercedes-Benz A 250. It also features a launch control system that facilitates accelerations from a stop to get the best times to the track.
Speaking of the track, the new AMG will also be equipped with a system called Track Pace integrated into the MBUX system. Track Pace can keep records of your lap times, top speed, acceleration times and more on different tracks to help improve our driving over time. As for the MBUX system, it is the same system present in the new A-Class which offers advanced voice commands and an artificial intelligence system that adapts to the driver.
The 2020 Mercedes-AMG A35 will be launched early next year. It will be offered in both sedan and hatchback versions.