Mercedes-Benz Car for All Seasons
September 01 2015,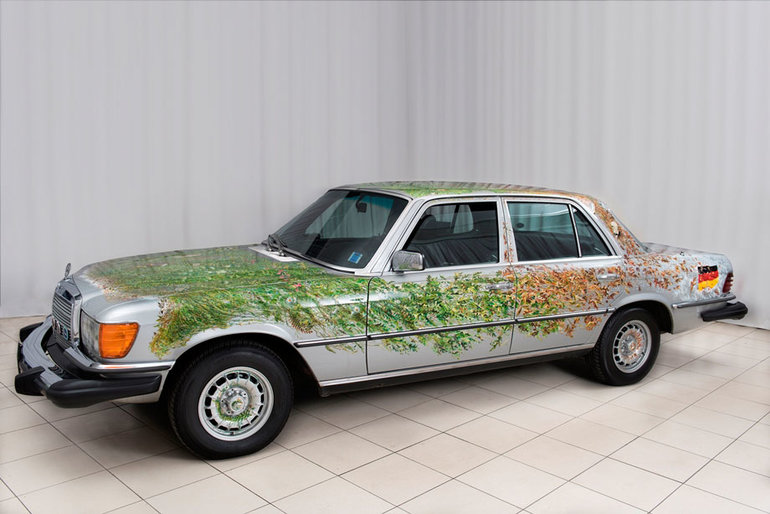 "As this project started to crystallize, we realized that this work of art would allow us to tell a great story about our Canadian heritage with a 35 year old car in mint condition."
Tim A. Reuss, President and CEO of Mercedes-Benz Canada, joined Tom Forrestall on August 28, 2014 to unveil "A Car for All Seasons," the latest creation by the world-renowned Canadian realist artist. The "Car for All Seasons" will be on display at Ogilvie Motors Mercedes-Benz from September 10 to the 18.
Commissioned by Mercedes-Benz Canada, Tom Forrestall worked relentlessly over the course of the last six months on converting his vintage 1980 Mercedes-Benz 300 SD into a thought-provoking and transportable work of art. He credits his long-time friend and partner in this project, Dr. Mary O'Regan of Toronto, with the idea to paint the car as well as naming the work, "A Car for All Seasons".
Born in the Annapolis Valley of Nova Scotia, Tom Forrestall is one of the foremost realist painters in Canada celebrated for his small brush stroke technique that results in highly detailed images. Throughout his career, Tom Forrestall has often chosen to work with unconventional shapes, rejecting the more familiar rectangle. He explains that for this particular project, he reconciled the idea of the seasons and the shape of the canvas by creating a tapestry-like concept that gives the impression that it could be easily lifted to expose the original car paint and colour.
The Changing Seasons Portrayed on a Motorized Canvas
Painted using BASF's waterborne GlasuritTM 90-Line automotive paint, the large scale work is brimming with intricate details that characterize the Canadian seasons: lush spring greeneries morph into a riot of summer colours that transform into blowing leaves that transmute into a desolate winter scene. The work also incorporates symbolic touches such as the portraits of the eponymous Mercedes Jellinek, Karl Benz and Gottlieb Daimler, as well as the Canadian and German flags.
As a loyal Mercedes-Benz customer for several decades, it was only natural for Tom to set up his temporary studio in the same vicinity where his vehicle had been serviced by the same technician for over 33 years. This special set up in the showroom allowed staff, customers and the general public the opportunity to witness first-hand the progression of the work amongst the daily hustle and bustle of O'Regan's Mercedes-Benz.
Six Months of Hard Work
"I have undertaken a number of large projects in my career but none that have commanded six months. There was an emotional passion that resounded throughout the creation of this piece: the deeper I got into it, the more I loved it," said Tom Forrestall. "I am thrilled that a vehicle that has seen the passage of many seasons will make the passage of time in its new form."
"As this project started to crystallize, we realized that this work of art would allow us to tell a great story about our Canadian heritage with a 35 year old car in mint condition, coupled with the history of a great painter who actually owned and drove the car through many seasons. Mercedes-Benz has a long, established tradition of introducing timeless designs, and the 1980 300 SD which served as a canvas for this work of art is certainly a prime example of this," said Tim A. Reuss, President and CEO of Mercedes-Benz Canada. "This is an exciting development for Mercedes-Benz Canada and we are delighted to have been involved in this unusual project. I would like to extend our thanks to the many people whose support was instrumental in bringing this creative project to fruition, namely Dr. Mary O'Regan, Patrick and Sean O'Regan and the entire staff at O'Regan's Mercedes-Benz in Halifax as well as Rick Valin at BASF. As the "Car for All Seasons" begins its new journey, we now look forward to sharing this very special work of art with Canadians coast-to-coast."