Ottawa Auto Show: 2015 Mercedes-Benz C-Class
March 19 2015,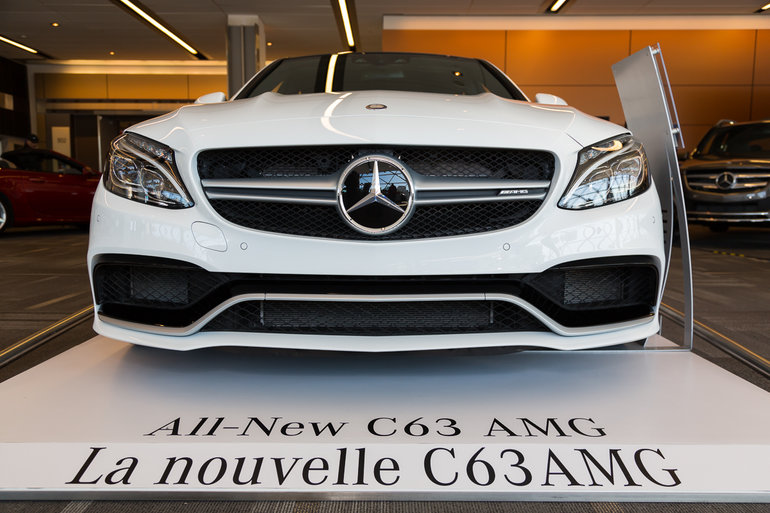 Now in its fourth generation, the 2015 Mercedes-Benz C-Class might be the best-looking iteration to date, and it was also the first Merc to sport the brand new Modular Rear Structure of the German automaker.
Voted 2015 Best New Luxury Car by the Automotive Journalist's Association of Canada (AJAC), the Mercedes-Benz C-Class is just that: new and luxurious. From nose to tail, the C-Class exudes sophistication and looks regal on the road in a way only a Mercedes could. Modernized LED headlights and integrated LED daytime running lights give the 2015 Mercedes-Benz C-Class a definite presence on the road, and that stance continues through to the rear where you'll find angular exhausts and LED taillights that utilize fibre optics, along with LED indicators.
While a 5-door estate (station wagon) version exists in Europe, in North America we only have a sedan variant, and two engines to choose from: a 16V inline-4 turbocharged mill good for 241 horsepower and 273 lb-ft of torque (C 300 4MATIC), and a 24V BiTurbo V6 engine that will push out 329 horsepower and 354 lb-ft of torque (C 400 4MATIC). The 2015 C-Class only comes with all-wheel drive, and power is handled via a 7G-TRONIC PLUS automatic.
The 2015 Mercedes-Benz C-Class features interior luxuries such as a free-standing centre display that utilizes the latest generation of COMAND which is now equipped with an internet browser and Mercedes-Benz Apps. The C-Class also features a touchpad for comfortable control and navigation through the onboard computer.
On the road, the car feels strong and powerful, and certainly puts the driver at ease immediately. There is a sense of strength and stability that comes from Mercedes-Benz' new sedan, and those looking for a premium sedan, regardless of the fact that it is in essence a compact luxury vehicle, will love the redesigned C.
The new C-Class is an engineering and designing work of art from Mercedes-Benz. From a dynamic drive to a sensual interior feel, the C-Class offers owners the opportunity to experience German luxury and performance at its very best, without sacrificing convenience or practicality as there is plenty of interior space and of course, AWD.