Ottawa Auto Show: 2015 Mercedes-Benz CLA-Class
March 19 2015,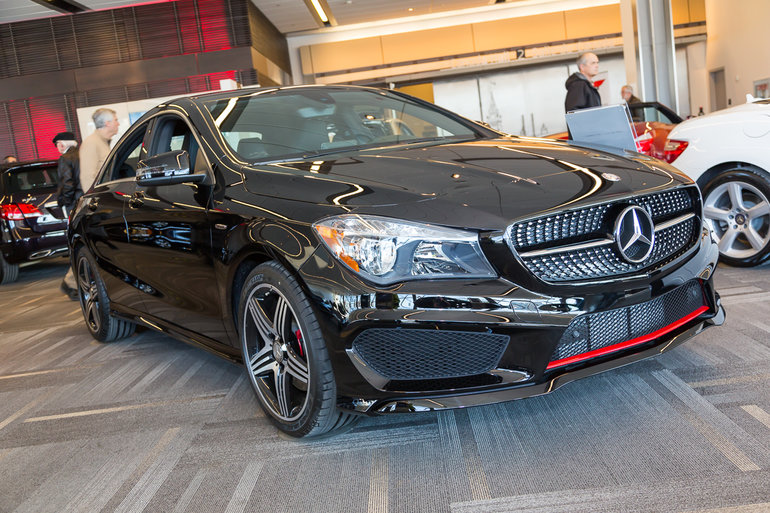 Only around since 2013, the Mercedes-Benz CLA-Class might be the new kid on the luxury German automaker's block, but it's definitely made an impression so far.
The 2015 Mercedes-Benz CLA-Class offers entry-level pricing for high-level luxury from a renowned German automaker. With all the creature comforts you'd come to expect from Mercedes, the CLA-Class offers it all in a compact package that's labeled "coupe" despite its convenient four doors. And with the introduction of a CLA Shooting Brake version at the 2015 L.A. Auto Show, the possibilities seem endless.
For starters, the look of the brand new Mercedes-Benz CLA-Class carries over the new style trends seen across the board at Merc, a look that's loaded to the brim with sophistication, class and a touch of aggressiveness. That sportiness continues inside the four-door coupe with bolstered front seats and a sloping roofline that keeps the cabin cozy.
Available in both FWD and more recently with Merc's 4MATIC all-wheel drive system, the CLA-Class is both versatile and stylish. Available in three models, CLA 250, CLA 250 4MATIC and the pumped up CLA 45 AMG; the same engine is found across the board, however, power output differs. In the 250 duo the 16V inline-4 turbocharged mill produces 208 horsepower and 258 lb-ft of torque. And the same engine, mapped differently, pumps out 355 horsepower and 332 lb-ft of torque in the AMG version.
With a 7-speed dual-clutch automatic transmission that can be adjusted according to the driver's preference (Economy, Sport, and Manual), the 2015 Mercedes-Benz CLA-Class might be the "baby" of the bunch, but it is by no means the meekest. Acceleration from 0-100 km/h in the 250 duo hovers in the 6.6 second range, and drops all the way to 4.6 seconds in the 45 AMG.
While the CLA-Class isn't for everyone, it is the ideal urbanite vehicle, rife with modern-day technological gadgetry and a look that's on par with today's design strategies and looks. This one's got it all for the right buyer.