Ottawa Auto Show: 2016 Mercedes-Benz GLE Coupe
March 17 2016,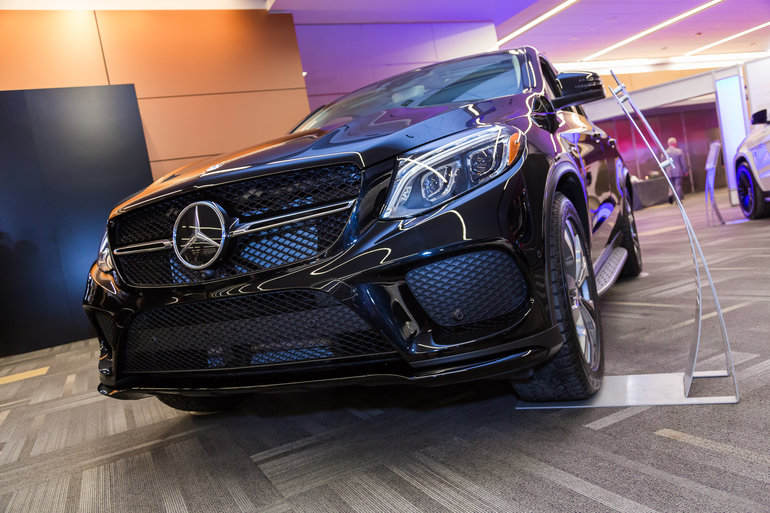 Come have a look at the 2017 Mercedes-Benz GLE Coupe at the Ottawa Auto Show today!
No question, coupe versions of sport utility vehicles are all the rage. In a way, Mercedes-Benz is the pioneer of anything coupe-like derived from a four-door vehicle, having started a trend way back when with the Mercedes-Benz CLS. It is therefore no surprise that if you fast forward to today, we have a model like the 2016 Mercedes-Benz GLE Coupe.
Sporty design for the 2016 Mercedes-Benz GLE Coupe
Even if the Coupe version shares the structure, mechanical components and interior of the "regular" GLE, its dimensions are slightly larger. Indeed, it is longer and wider, yet its overall design makes it appear as if it had a smaller footprint. In order to offer better aerodynamics, the vehicle's height has been reduced, giving it an overall more planted and sporty look.
The grille with the massive Mercedes-Benz emblem as well as the sculpted headlights are shared with other GLE variants, giving it a near identical appearance to the standard GLE when looking at the Coupe version from the front. Where things get interesting is in the back where the sloping roofline give the GLE Coupe an appearance of going fast, even when parked.
The best part however, is that even with that angled roof, headroom in the back is not amputated. Mercedes-Benz engineers made sure they lowered the rear seats in order to make sure your rear passengers would still be comfortable.
The cargo area is also impressive and doesn't make owners feel like they had to compromise on versatility to get the sleeker design of the Mercedes-Benz GLE Coupe.
The base GLE is the GLE 350d 4MATIC model which is powered by a 3.0-liter diesel six-cylinder engine that delivers 249 horsepower and an impressive 457 lb-ft of torque. A second model, the GLE 450 AMG 4MATIC, get a biturbo V6 that offers 362 horsepower.
That said, if you really want outstanding performance, opt for the Mercedes-Benz GLE 63 AMG S with its 5.5 liter biturbo V8 that delivers 577 horsepower and 560 lb-ft of torque.
Come have a look at the 2016 Mercedes-Benz GLE Coupe at the Ottawa Auto Show today!