Refreshed 2018 Mercedes-Benz GLA unveiled in Detroit
January 31 2017,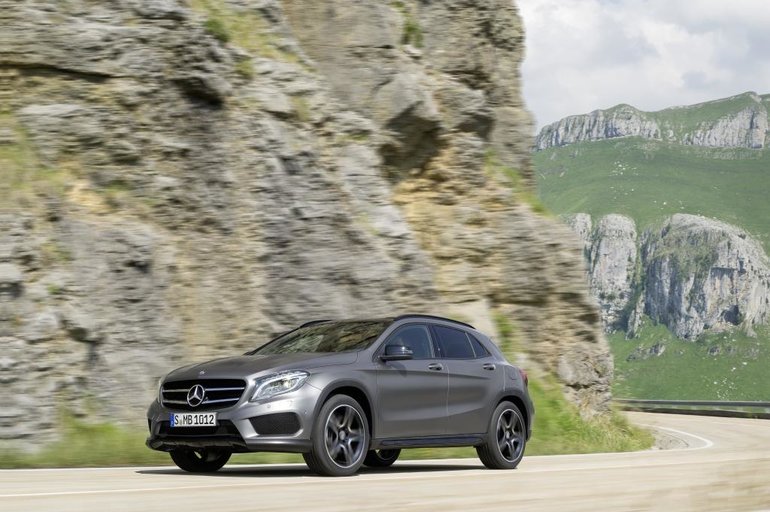 Mercedes-Benz' lineup of entry-level models which includes the B-Class, the CLA and the GLA subcompact luxury SUV has been very popular with buyers ever since each model listed above hit the market.
These models offer all the refinement, driving pleasure and luxury associated with Mercedes-Benz products, but at a reasonable price that fits within the budget of a larger number of buyers. It is therefore not surprising that these models have become quite popular. To keep up the momentum, the German manufacturer unveiled the 2018 Mercedes-Benz GLA a few weeks ago at the North American International Auto Show in Detroit.
A few improvements for the 2018 Mercedes-Benz GLA
On the market since 2014, the Mercedes-Benz GLA was still a modern vehicle that remains well-suited to the needs of consumers, but Mercedes-Benz prefers to be proactive by making changes and improvements before the competition catches up with the GLA.
The changes are noticeable as soon as one looks at the new 2018 GLA which now features a front fascia that is more aligned with other new Mercedes-Benz products introduced recently. The headlights are new both front and rear, and the high-performance AMG version receives a new diffuser in addition to a redesigned spoiler.
Front LED headlights are now available as an option on the GLA 250 and standard on the GLA 45 AMG. There is also a new 360-degree camera added to the options catalog as well as Apple CarPlay and Android Auto connectivity features. In terms of safety, the 2018 Mercedes-Benz GLA receives an automatic braking system which is standard on all models.
The same engines for the 2018 Mercedes-Benz GLA
There is no change under the 2018 GLA's hood. The GLA 250 is still powered by a 2.0-liter turbocharged four-cylinder engine that develops 208 horsepower and 258 pound-feet of torque. The GLA 45 AMG also gets a 2.0-liter turbo engine, but the power goes up to 375 horsepower which means that it only takes about 4.4 seconds to reach 100 km/h. Despite all that performance, the Mercedes-Benz GLA 45 AMG currently has an average fuel consumption rating of just 8.5 liters per 100 kilometers on the highway. Every 2018 GLA is equipped with 4Matic all-wheel drive.
The 2018 Mercedes-Benz GLA is expected to arrive on the market this summer. For more information, contact us today at Mercedes-Benz Ottawa!