The 2017 Mercedes-AMG S 63 4MATIC Cabriolet presented at the Canadian International Auto Show
February 16 2016,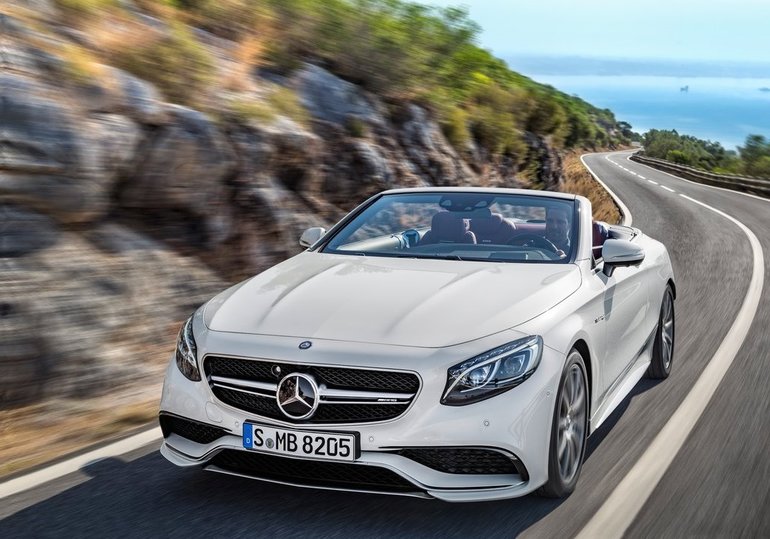 Nothing compares to the feeling of being behind the wheel of a high-performance 4-seater Cabriolet.
Nothing compares to the feeling of being behind the wheel of a high-performance 4-seater Cabriolet. Presented for the first time in the S-Class segment, the Mercedes S 63 4MATIC boasts a perfect balance between performance and luxury, with a dash of sun to go with it. Under the hood, the S 63 4MATIC Cabriolet features the powerful 5.5-litre V8 Biturbo engine that boasts 577 hp and 664 lb-ft of torque. Moreover, this magnificent cabriolet is equipped with the AMG Performance 4MATIC all-wheel drive with rear-biased torque split. It offers a tremendous amount of power and driving pleasure; it can accelerate from 0 to 100 km/h in 3.9 seconds, and its top speed is electronically limited to 300 km/h.
Equipped For Any Situation
One particularly attractive feature of the new S 63 4MATIC cabriolet is undoubtedly the exhaust system, which is equipped with automatic exhaust flaps. It can basically adapt to the driver's mood. When the transmission is in "C" (Controlled Efficiency) mode, the flaps remain closed. But In "S" (Sport) and "M" (Manual) modes, the exhaust flaps open early, showcasing the distinctive sound of the AMG engine.
This magnificent powerhouse needs a good transmission to channel the power to the wheels. That is why engineers chose the AMG SPEEDSHIFT MCT 7-speed sports gearbox for this particular application. It provides maximum agility and exciting dynamics. This S 63 Cabriolet is also equipped with the performance-oriented AMG 4MATIC all-wheel drive system. This particular system distributes 33 percent of the engine torque to the front axle and 67 percent to the rear axle. This rear-based power distribution is specifically engineered to provide the driver with an exciting drive and riveting performances.
Bold Design, Uncompromising Power
The exterior of the S 63 Cabriolet is stunning. Not only are its design elements easy on the eyes, but they all serve a specific aerodynamic purpose. The front end is dominated by the three-dimensional "twin-blade" radiator grille in silver chrome. Underneath this magnificent front end, the front splitter optimizes the flow of air to the cooling elements. Nothing has been left behind; even the available AMG forged wheels (8.5 x 20 inches at the front and 9.5 x 20 inches at the rear) are lightweight and specifically constructed for high performance and optimal efficiency.
Inside, the sports seats and the three-spoke sports steering wheel are both works of art. The aluminium shift paddles enhance dynamism during spirited drives while the high-resolution TFT colour display serves as an instrument cluster with two animated round dials that display important information in style.
This extraordinary addition to the S-Class family will be available soon.