The next-generation Mercedes-Benz CLS is born in Los Angeles
November 30 2017,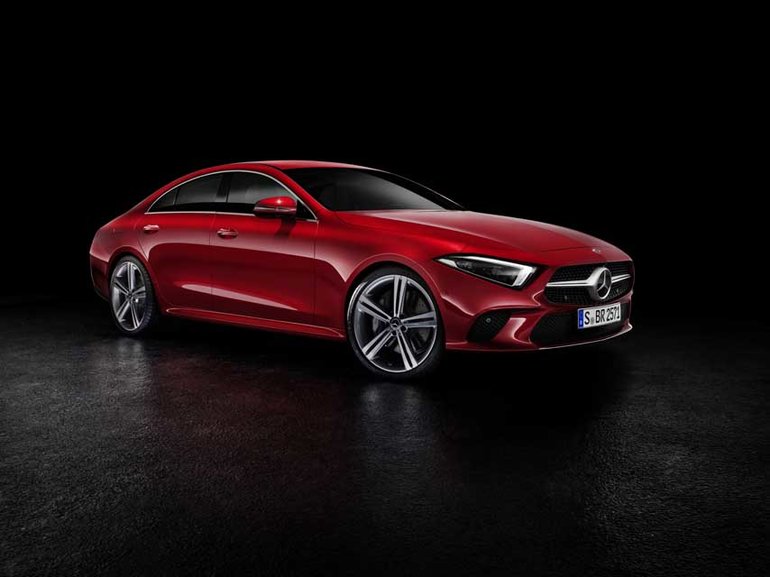 This week at the Los Angeles International Auto Show, Mercedes-Benz unveiled the third generation of its Mercedes-Benz CLS coupe sedan, a car that will be launched in the summer of 2018. Introduced in 2003, the Mercedes-Benz CLS stole the show as soon as it hit the market with its breathtaking style, and the generation presented in Los Angeles is equally impressive. There is no doubt it will be easy to turn heads with the 2019 Mercedes-Benz CLS.
Advanced styling for the 2019 Mercedes-Benz CLS
The silhouette of the new 2019 Mercedes-Benz CLS immediately reminds us of the previous generation, but at the same time this new generation has a visual signature that is immediately noticeable. Its lines are more slender, fluid and very modern. It is obvious that Mercedes-Benz wanted to give a more aggressive look, and a more muscular one to its new Mercedes-Benz CLS.
AMG styling is present in the new Mercedes-Benz CLS, and standard 19-inch wheels add an extra touch of aggressiveness to the overall design. In addition to offering an impressive elegance, the 2019 Mercedes-Benz CLS is also very aerodynamic with a drag coefficient of only 0.26.
In addition to its new silhouette, the CLS will offer the ENERGIZING technology feature introduced on the new Mercedes-Benz S-Class last year. This feature allows the cabin environment to be changed to different modes including Joy Mode, and Vitality Mode.
As it should be with a car of the caliber of the Mercedes-Benz CLS Class, a host of connectivity and safety technologies are on the menu. Think of a way that the Mercedes-Benz CLS can protect its passengers, and it will do it. Several devices such as PRE-SAFE, DISTRONIC and driving assistants such as automatic lane departure prevention system, cruise control with automatic braking automatic lane keep assist and steering are present.
The only model to be unveiled in Los Angeles, the Mercedes-Benz CLS 450 4Matic will be powered by a 3.0-liter turbocharged inline 6-cylinder engine developing 362 horsepower and 369 lb-ft of torque. Other models will certainly be added to the CLS range in the coming months, including some AMG versions.
To learn more about the new 2019 Mercedes-Benz CLS, contact us today at Mercedes-Benz Ottawa!