The tridion structure of the 2018 smart fortwo explained
May 11 2018,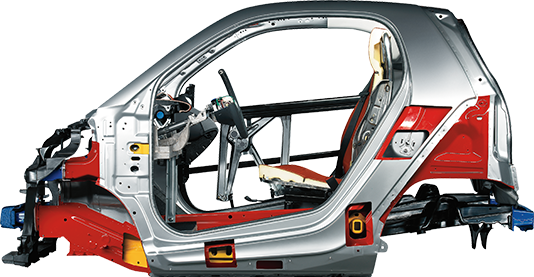 When we see the 2018 smart fortwo for the first time, an element of the bodywork generally stands out. This element displays a different color from the rest of the body panels and one might think at first sight that it's only an aesthetic addition. This is not the case. What you are looking at is the tridion structure which is actually the heart of the smart fortwo's safety technologies.
Impressive safety.
The smart fortwo, despite its compact dimensions, is one of the safest cars on the road. Surprising, but true. At the heart of this safety is the tridion structure. The latter is composed of 75% high-strength steel that provides very impressive rigidity. Thanks to this structure, the forces of an accident are pushed away from the occupants of the car and absorbed. Think of it as a shell protecting the nut.
The structure also ensures better handling. We also find the tridion structure in the smart fortwo cabrio, but it has been somewhat modified. The goal was to make it possible to remove the roof bars above the doors without compromising the rigidity of the car or its safety. So we get all the pleasure of driving with open roof without having to compromise on safety.
To learn more about the 2018 smart fortwo and its impressive tridion structure, contact us today at Mercedes-Benz Ottawa Downtown. We look forward to helping you find the right smart vehicle for your needs!