Three elements that stand out in Mercedes-Benz vans
May 11 2018,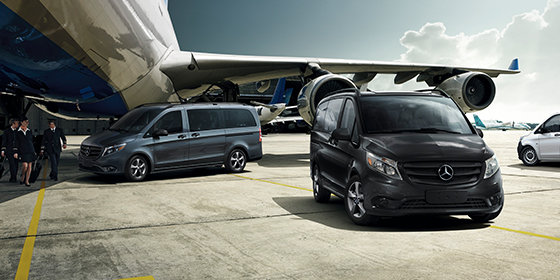 There are a lot of commercial vans on the market and the vast majority offer impressive customization options, efficient engines and a cargo capacity that will surpass the needs of most buyers.
That said, Mercedes-Benz vans offer that little something extra that comes with the Silver Star emblem. It's this little something more that allows Mercedes-Benz vans to really stand out from the competition.
But that's not all. In fact, the Mercedes-Benz Sprinter and Metris vans offer several other caracteristics that their respective competitors are not able to replicate. Here are three.
The Mercedes-Benz Sprinter is available in AWD version.
With the Mercedes-Benz Sprinter 4x4, you get the only van equipped with all-wheel drive. It also offers a higher crossing capacity thanks to a higher ground clearance compared to the normal Sprinter. With a Sprinter 4x4, you will always be able to make your deliveries, regardless of what is happening outside.
They are more spacious than other vans.
The Mercedes-Benz Metris is the only mid-size commercial van in the industry. This means that it offers more space than its rivals without necessarily being as expensive as the larger vans we see. As for the Sprinter, it offers more than 5,300 liters of cargo space, more than any other van in the same segment.
Its cost of ownership will impress you
Perhaps the most surprising thing for Sprinter and Metris owners is the very reasonable cost of ownership. That means that despite their starting price, the Sprinter and Metris are not really more expensive than their rivals to own in the long run.
To learn more about the new Mercedes-Benz Sprinter and the Mercedes-Benz Metris, contact us today at Mercedes-Benz Ottawa Downtown.